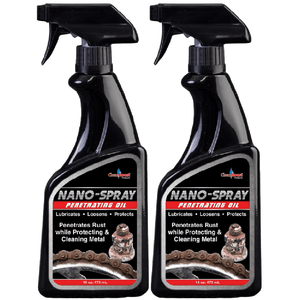 CleanBoost® 16 oz. Nano-Spray™ 2 Pack Special
16 oz. CleanBoost® Nano-Spray™ 2 Pack Special - Limited Time Offer
Do you have rusted nuts and bolts, squeaky suspension, squeaky door hinges, or need to protect against salt and road grim?
CleanBoost® Nano-Spray™ is an easy to use, non aerosol bottle and contains no harmful materials.
CleanBoost® Nano-Spray™ will help protect metal surfaces as well as penetrate rust, dirt and grime.
Help lubricate bushings, springs, hinges, slides and more...
Great to use when drilling metal, help reduce drill bit wear and speed up your drilling jobs.
Applications:

Air tools Bolts
Bushings
Chains
Cables
Casters
Conveyors

 

Electrical terminals
Fasteners
Firearms
Fishing reels
Gears
Hand tools
Learn all about penetrating oils by clicking here.
---
We Also Recommend