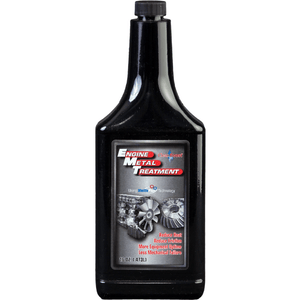 CleanBoost® EMT™ 16 oz. Oil Additives Engine Metal Treatment
Just ask Garrett Bateman... NHRA® Top Alcohol Dragster Driver from Boost Performance Products and Champion of the 2015, 2016 & 2017 NHRA® Toyota Nationals... who also gains support from Boost Performance Products as a happy user of CleanBoost® 70W™ Racing Oil, fortified with CleanBoost® EMT™.
In the 2014 NHRA® Winternationals, Bateman began a solid run and then according to Garrett... "Duuude! We were #1 to half track before our coupler broke and zinged the motor to 9,300! We were .897 sixty foot and 227mph to half track before it broke. We went 5.40 e.t. coasting at only 212mph for #2! The oil saved the motor! No hurt parts! The oil saved our a**!! And made me look good! : )" - Garrett Bateman 
---
CleanBoost® EMT™ Engine Metal Treatment is truly a new and unique lubrication chemistry. It provides a vastly superior level of protection without using Chlorinated Paraffin, Chlorinated Olefins, Graphite, Boron, Teflon (PTFE) or solvents. EMT's unmatched lubrication technology extends oil life and greatly reduces engine, transmission and gearbox component wear. CleanBoost® is not spending millions on hype, instead we have spent our money on producing the finest lubricant package available.
 
CleanBoost® 16 oz. EMT™ Engine Metal Treatment is the perfect size to add to an engine with up to a 12 quart capacity. 16 ounces treats 12 quarts of engine oil or a ratio of 1:24 for most gasoline or diesel engines.
You can add this safely to all engines either new or high mileage applications, truck, marine, construction, off-road, motorcycle (not for use in wet clutch systems) and perfect for all small engines.; Works well in all manual transmissions, gear boxes, differentials, (front and rear axles), anywhere where friction can create heat and stress with automatic transmissions, wet clutches and some clutch-pack type limited-slip differentials being the exception due to their physical natures.

CleanBoost® 16 oz. EMT™ technology can help with the reduction of ZDDP's in today's diesel and HD engine oils. CleanBoost® EMT™ contains stabilizing anti-oxidants and very unique metal deactivators to assure it performs well in all engine and gear applications.
Can be used in industrial gear boxes as well as rear differentials and race car reverser units. The oil acts like a delivery truck carrying the CleanBoost® EMT™ to the asperities of the metals and forming a covalent, galvanic bond to the metal allowing a 2 to 4 micron penetration into the metal, creating less friction and heat.
CleanBoost® EMT™ is the same product used in manufacturing our popular CleanBoost® 70W™ Racing Oil, CleanBoost® 20W50™ Racing Oil and our Diesel Duty™ Engine Oils. It is EMT™ that allows these oils to perform under very extreme conditions.


Just ask Chris Demke, Winner of the 2014 NHRA® Winternationals driving the top blown alcohol OSI/Peen-Rite/Boost Performance Products dragster: "Boost Performance Products and their line of CleanBoost® Performance Motor Oils line of lubricants is a key component of our team's performance and success! Thank you so much for your support!!!"


These top fuel and alcohol dragsters have engines with up to  10,000 horsepower, which is about twice as powerful as the engines installed on modern Diesel locomotives!
The pressures inside these engines is ridiculous... yet many of these teams quietly use CleanBoost® EMT™ and the CleanBoost® 70W™ Racing Oil fortified with EMT™, as the key to keeping these extreme nitro methane and alcohol injected engines from coming apart during these very competetive racing events. It's also used in their drive axles, reverser gear units and anywhere else the Crew Chief sees fit for it's use to protect expensive components.

And once again, just ask Garrett Bateman, NHRA® Top Alcohol Dragster driver from HipLink® Software and winner of the 2014 Les Schwab Challenge for the NHRA Lucas Oil Drag Racing Series, Northwest Division at Woodburn Dragstrip... who also gains support from Boost Performance Products as a happy user of CleanBoost® 70W™ Racing Oil, fortified with CleanBoost® EMT™. In the 2014 NHRA® Winternationals, Bateman began a solid run and then according to Garrett... "Duuude! We were #1 to half track before our coupler broke and zinged the motor to 9,300! We were .897 sixty foot and 227mph to half track before it broke. We went 5.40 e.t. coasting at only 212mph for #2! The oil saved the motor! No hurt parts! The oil saved our a**!! And made me look good! : )" - Garrett Bateman

Remember that countless hours of testing and refining went into CleanBoost® EMT™ before it was released for sale. It had to be just right. The formula had to work and work every time. The results had to speak for themselves. And as you have heard and read above, they do indeed.
Today, you can buy this technology to protect your expensive engines and other mechanical components and rest with complete peace of mind, know your vehicle is protected with the finest engine and metal treatment available anywhere.

Benefits:  
Reduced Friction for Maximum Oil Performance

 

Compatible with Mineral & Synthetic Oil

 

Used in Gas or Diesel Engines

Excellent for Heavy & Industrial Mining

Excellent choice for Noisy Rear Differentials
One 8 oz. bottle of CleanBoost® EMT™ will treat a 6 quart engine.
Click here to view the Mixing Chart for complete ratio information.
Check out our video
Learn more about CleanBoost® EMT™ and how it prevents heat and friction in most all standard (non motorcycle) transmissions by clicking here or how it can help your rear differential by clicking here. You can also learn how it can help with off-roading by heading to this article.
Click here to view the EMT™ Engine Metal Treatment Flyer for more details
---
We Also Recommend